Exceptional Efficiency
HIIT delivers a productive combination of efficiency and effectiveness. And while the Octane Rō provides intense resistance and progressive challenges, its seated, no-impact format eliminates excessive pounding on the body. Exercisers get the all the intensity they crave without all the jarring on the joints. Win-Win!
Steady-State Cardio
The Octane Rō is also a great choice for steady-state cardio sessions, where users maintain consistent intensity and enjoy the pace of rhythmic strokes to build cardiovascular endurance and burn calories and fat. Progressive resistance yields ongoing total-body challenges, and this low-impact modality eliminates repetitive pounding for more joint-friendly sweat sessions.
MAX CiRCUIT
Ideal for small group and circuit training sessions, the MAX CiRCUIT routine facilitates use by multiple users in rapid succession. The console tracks time and intensity for each individual exerciser, and then automatically resets to zero between exercisers. Each user gets their own data, without having to waste time resetting the console. Simply strap in and row!
14-Minute Workout
Made popular by the Max Trainer cardio machine, the Max 14 Interval program drives maximum effort in 25-second intervals, followed by 80-second recovery periods. This ultra-efficient, 14-minute HIIT session inspires exercisers to give it their all and benefit from total-body conditioning.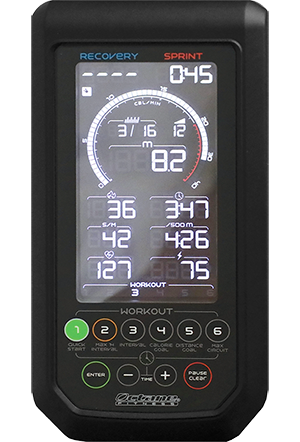 Enhanced Console
Backlit for easy readability, the oversized, 7-inch LCD console features a dynamic calorie meter that simultaneously shows exercisers their best and current efforts as encouragement to continue striving throughout their regimen. Real-time performance metrics, including strokes per minute, watts, distance, time, calories and heart rate, also fuel motivation.
Give it a try at Anaplasis Gym!